Technology has evolved quite a lot in the past decade, and medicine has definitely followed along. When it comes to the cosmetic procedures that are offered at beauty clinics and center these days, the results that you can get are quite remarkable, and if you happen to have some imperfections on your body that you want fixed, you can do it with ease.
Fixing sagging breasts
There are quite a lot of reasons why one's breasts can have a saggy appearance. The main one being someone's age, as our skin loses its effect of elasticity over the years, and then gravity simply pulls that excess skin down once the elasticity is gone.
The other reasons behind the saggy breasts can be pregnancy, breast feeding, sudden weight loss, or some kind of a condition, such as getting breasts implants at a very young age, which will naturally speed up the "aging process" of the breasts by making them sag faster due to more weight and size.
The effective treatment in breast lift at Breast & Body Clinic or your local beauty center that you can access these days can correct the issue of sagging breasts completely, as it will return the breasts to their original position. Not only that, but the breasts can also be adjusted if there is some asymmetry between them, like nipples being in different positions, or one breast being bigger than the other one.
Next to that, the breasts firmness is going to be returned, and any extra tissue that should be removed, is going to be removed so you don't have any hygiene problems after the surgery. The surgical procedure is actually quite simple, and you will be under anaesthesia during the whole thing. After the surgery is done, you will have to go through a short recovery time of one or two weeks without doing any work.
Breasts before and after the breast lift procedure
Revising old implants
As it was mentioned above, if you happen to have implants for some time, there is a chance that your breasts have sagged a bit, so a breast lift is highly advised if you want to have your perfect breasts once again. However, when it comes to implants that have been inside for a while, there are some other issues that can rise as well.
According to the professionals who have the best technique in breast implant revision from Breast & Body Clinic, it is not uncommon for the implants to move around in the breast if they were not positioned correctly, which can create some asymmetry that you might want to correct.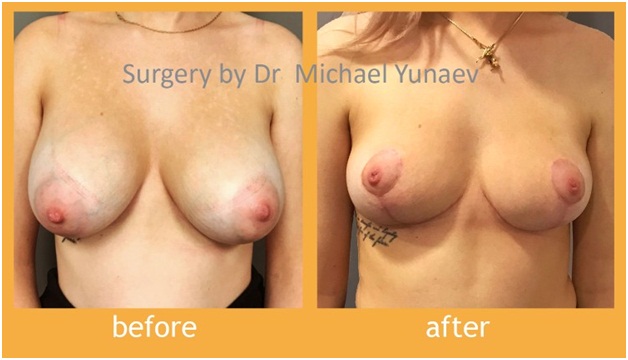 Nicely corrected implants
Final Word
Correcting your breasts is certainly going to make you a much happier person, as being satisfied with your breasts is going to increase your self-esteem more than you can possibly imagine. Surgical procedures today are much cheaper and much safer when compared to the past, and going through with them can only bring positive things into your life.